We're a global leader in modern hearing care with one simple goal: to provide the most comprehensive care for your hearing needs. Our team personally guides you along your way to better hearing and works closely with you to find the best and most affordable solution. Not only are we familiar with the challenges hearing loss present, but can point you to advanced and discreet hearing aids from leading manufacturers.
Experts on your side
Our ears are as unique as our fingerprint and finding the right hearing aids are not one-size-fits-all. To get the most out of it, it needs to match your requirements perfectly. Our hearing consultants will listen to your needs and provide you with information and recommendations based on your lifestyle, degree of hearing loss and preferences. We want you to hear well to live well, and will support you until you've found the solution that helps you achieve a better quality of life.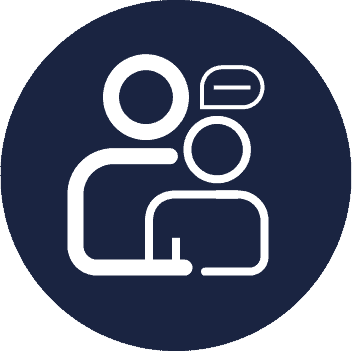 Talk to us
Your first step is to speak with a hear.com consultant over the phone. Our consultations are free, unbiased, and there to assist you with advice and relevant information.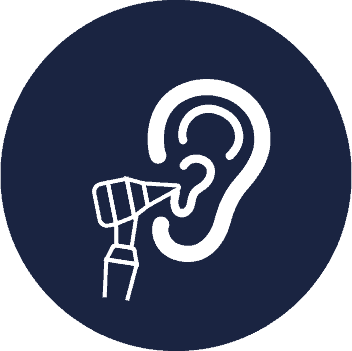 Get a test
We'll refer you to your closest hearing care provider to test your hearing. Together, we'll recommend a suitable hearing aid model and fit it to your personal needs.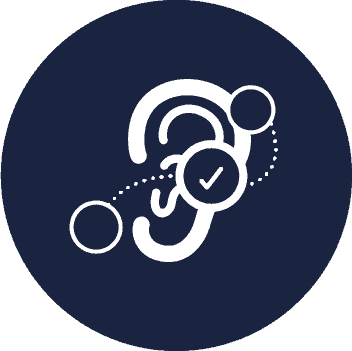 Try it
Finally, you can start wearing your hearing aids! Take it home, test it when you're at work with your colleagues and enjoy hearing the difference in your everyday life.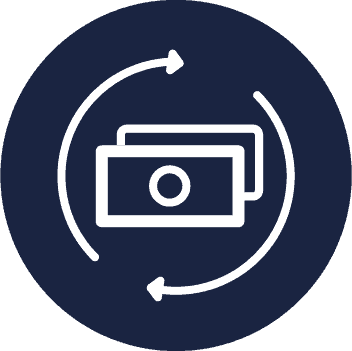 Hear well
If you love your hearing aid solution—and we know you will—you hold on to it, but just in case you don't, all our devices come with a 30-day, money-back guarantee.

How do I know if I need a hearing aid?

Are you experiencing hearing difficulties? Then the most likely answer is yes! Modern hearing aids are incredible. They enhance speech, filter out background noise, and in many cases, link with Bluetooth to your cell phone. These tiny computers can help most people experience all the sounds they've been missing.

However, in some situations – typically for children with severe hearing loss – hearing aids may not be the best solution, and a cochlear implant or other technology may be better suited. Adults that have had severe hearing loss since childhood, but have never worn hearing aids before, may also not be suitable hearing aid candidates.

For a definitive answer, speak to one of our hearing consultants. They'll be able to guide you and refer you to your closest hear.com hearing professional, who is qualified to make a hearing diagnosis and recommendation.
Why hear.com?

At hear.com, we believe that everybody should hear well, so they can live well. This belief combined with our expertise in the field has helped us become the fastest-growing hearing care company in the world.

The foundation of our hearing success formula consists of 3 elements:

We find qualified hearing care providers (audiologists) in your area, so you know you're in great hands.
We only work with world-class manufacturers like HORIZON, Widex , Signia and Oticon. These brands have a range of hearing aids, allowing us to find the perfect device for your specific needs.
We adopt a dual expert approach: First, your personal hearing consultant will guide you through the full process until you're 100% happy with your device. Secondly, we team up with your local hearing care provider, who conducts the hearing evaluation, the professional fitting, and your follow-up care.
How do you work?

Finding your hearing solution is as easy as 1, 2, 3… 4! The first step is to tell us about your requirements by filling out our form. Next, we'll give you a call to discuss your unique hearing needs, schedule a hearing test near you, and recommend the best hearing aid for your specific needs.
Why do I have to fill in a form?

We want to make sure we arm you with all the information you need before choosing the right hearing aids, which is why this is such an important step. We promise it will only take a few minutes!
How do I choose a hearing aid?

Choosing a hearing aid is not as simple as choosing a smartphone or flatscreen TV. There are many different models, technology classes, and style combinations. The hearing aid suitable for you will depend on a combination of your lifestyle, the type and extent of your hearing loss, and your budget. Speak with one of our hearing consultants today to find out more
What brands do you offer?

We only work with leading German and Danish brands like HORIZON, Widex, Signia and Oticon – companies that are continually developing new technologies. This means you get access to some of the best hearing aids available on the market today. If you'd like more information about these brands, our consultants are happy to help.
How much will my hearing aid cost?

Finding the right hearing aid is not one-size-fits-all. To get the most out of your device, we need to ensure that it aligns with your specific needs. This affects the price. As soon as we have a clear understanding of your needs, our consultants can provide you with a cost estimation. However, it is important to know that we can only provide a precise quote once a hearing aid recommendation has been made by a qualified audiologist or hearing aid acoustician, based on the type and extent of your hearing loss.
Why are hearing aids so expensive?

Modern hearing aids are so much more than sound amplifiers. They are tiny, complex computers. Advanced technology makes it possible to hear well in different listening situations and even in noisy environments. The cost of your hearing aid will depend on the level of technology you need. Our consultants are happy to provide you with more information, as well as a cost estimate.
Does hear.com offer payment plans?

We're affiliated with two medical credit providers, MediFin and MediWallet. These providers allow you to pay off your hearing aid in 18-36 month installments either by taking out a loan, or through a credit facility, which can be used towards your hearing aid purchase or other medical bills. If you prefer to use another credit provider, this is also an option. Additionally, we offer short-term (<6 months) interest free payment plans to qualifying customers.
Will my medical aid cover my hearing aid?

Many medical aids do provide a benefit towards hearing aids, but the exact amount will vary depending on your plan, as well as your available funds.
How long before my hearing aid works?

After several years of not hearing well, there will be an adjustment period – for some users it's just a few days, for others it might be a few weeks. If you aren't completely happy with your devices, you can return to your hearing care professional for as many follow-up visits as needed within the first 30 days. This will allow them to fine-tune your device.

If, after fine-tuning and within the 30 days, you're still unhappy, you can try another make or model or return your hearing aids for a full refund.
Where are your offices located?

We don't have hearing test centres of our own, but instead, operate through a partner network that consists of hand picked audiologists across South Africa. Contact us today and one of our hearing consultants will help you find a hear.com partner as close to your location as possible.
How do I contact hear.com?

Send us a Whatsapp, give us a ring, or request a free consultation via our website here
Whatsapp: +27714661349
Call: 011 084 7449