The cost of medical-grade hearing aids depends on the level of hearing aid technology needed to support your lifestyle. The more active you are, the more technology you require. Our wide selection allows us to offer hearing aids starting at $499 a pair. Most of our customers select medical grade hearing aids ranging from $139 to $199 per month over 36 months. Hearing aids last 5 years on average, so over their lifetime, this comes out to $2.30 a day. When compared to other day-to-day expenses, such as cars, entertainment, or the gym, it's a small investment for a much higher quality of life.
A 2001 study by R. Adler found that we spend 70% of our time engaged in some form of communication. Of that time, we spend about 9% writing, 16% reading, 30% speaking, and 45% listening. That's over 5 hours a day! So invest accordingly because hearing aids will be the most used device you own.
At hear.com, we specialize in matching you with the best hearing aids to meet your specific needs, lifestyle, and budget. We partner with all the leading manufacturers and the best local hearing care professionals to ensure you are 100% satisfied or your money back.
Every hearing aid manufacturer offers several different styles (the outside) and levels of hearing aid technology (the inside). Pricing is determined by the technology (inside) and not the style (outside). Our most popular hearing aids can be classified into the technology levels and price points below.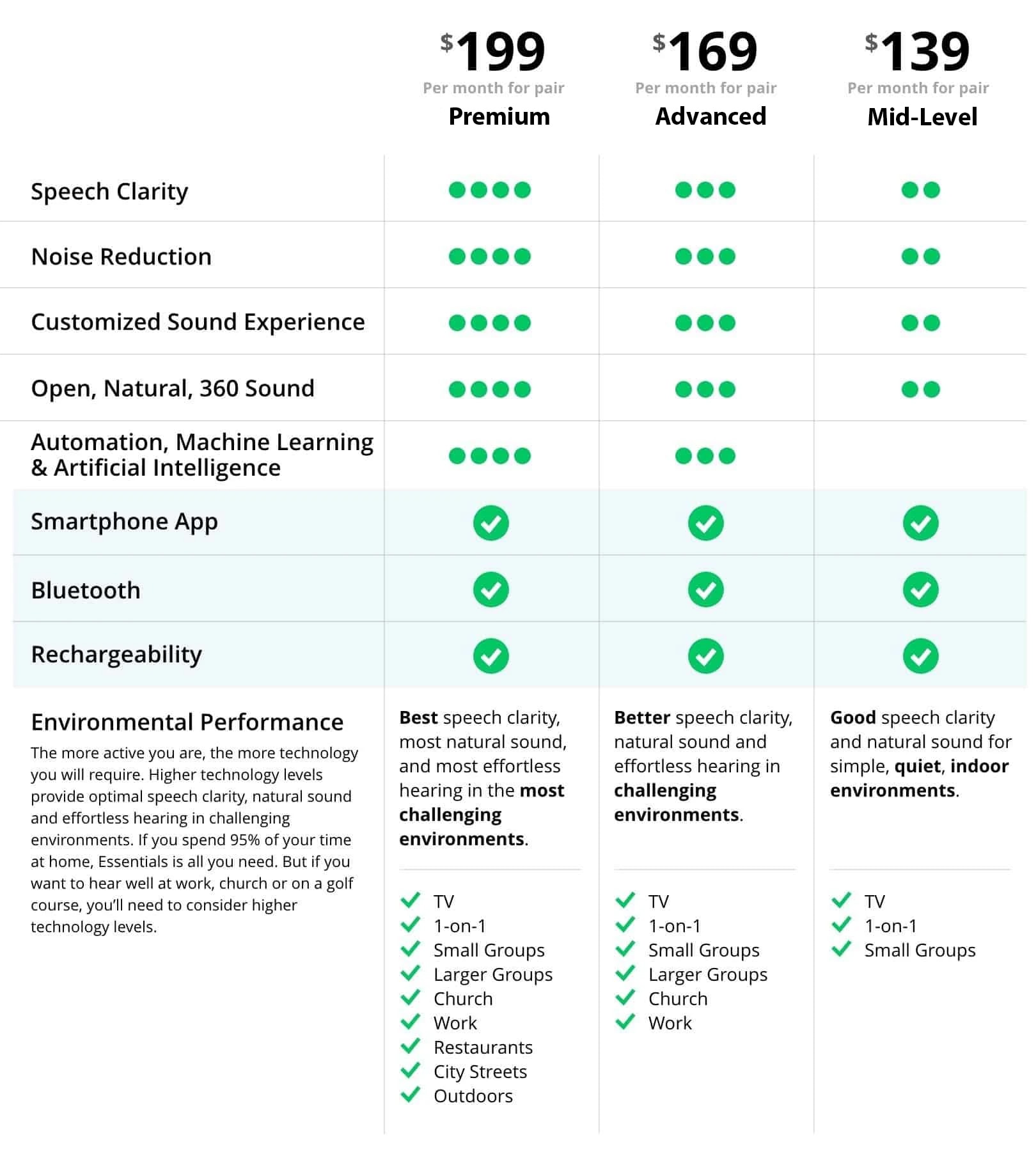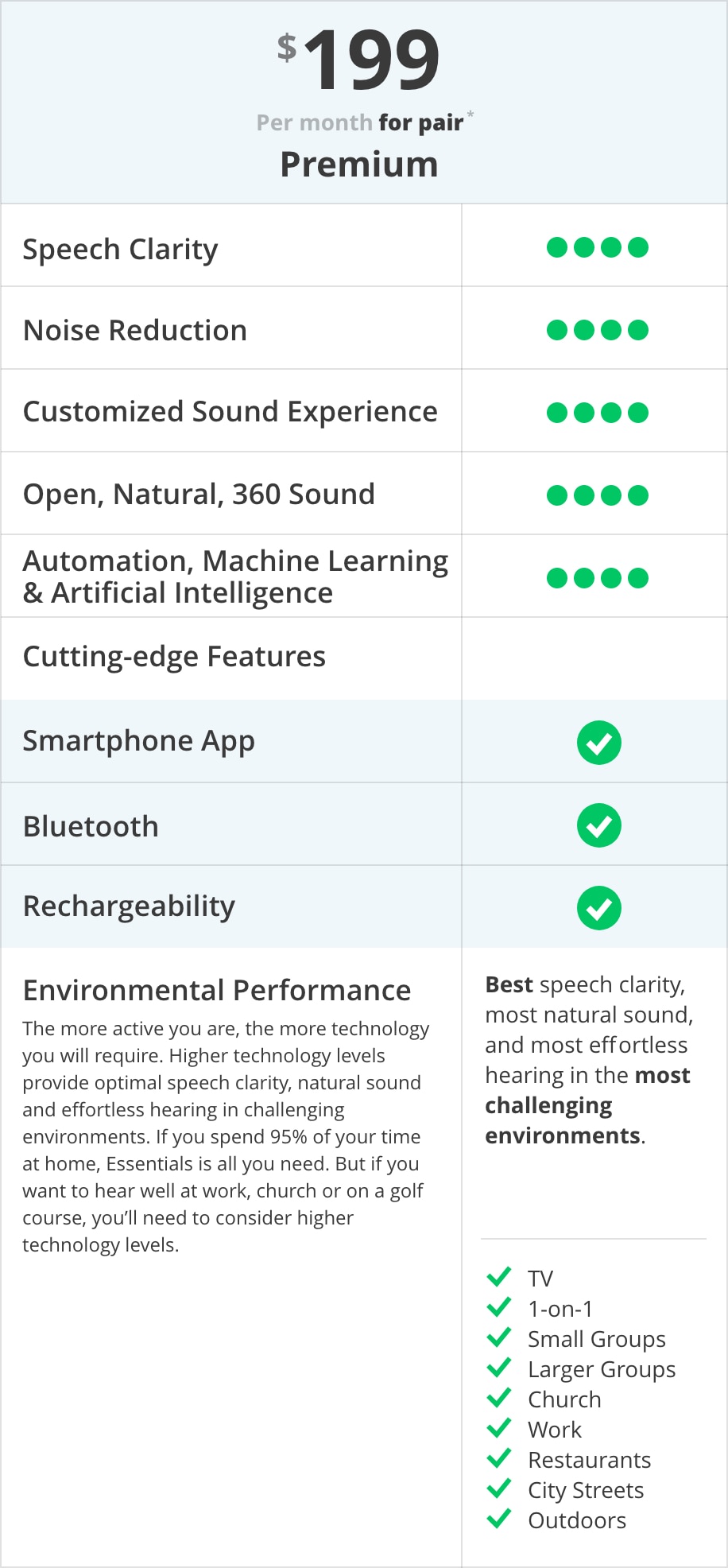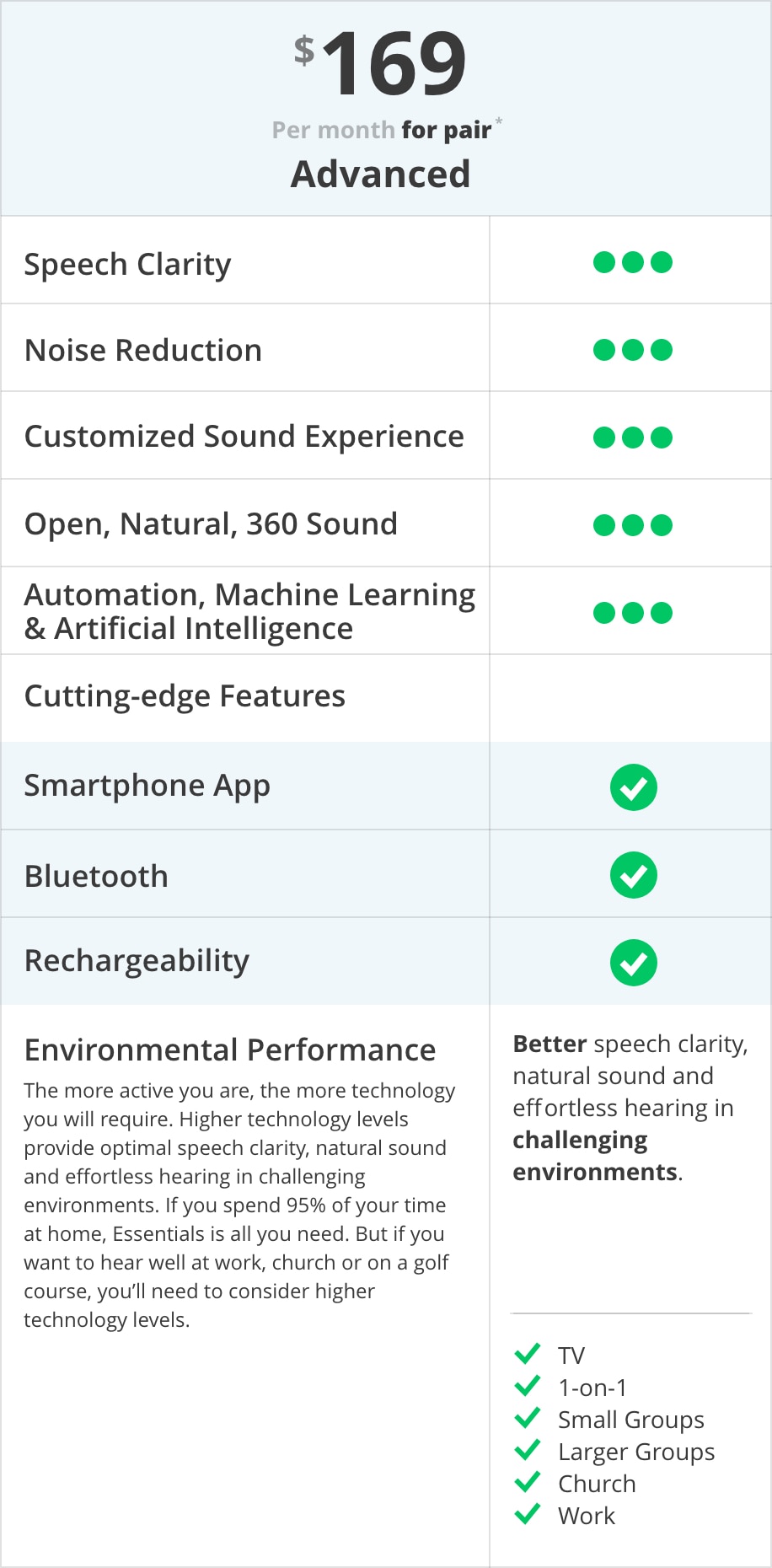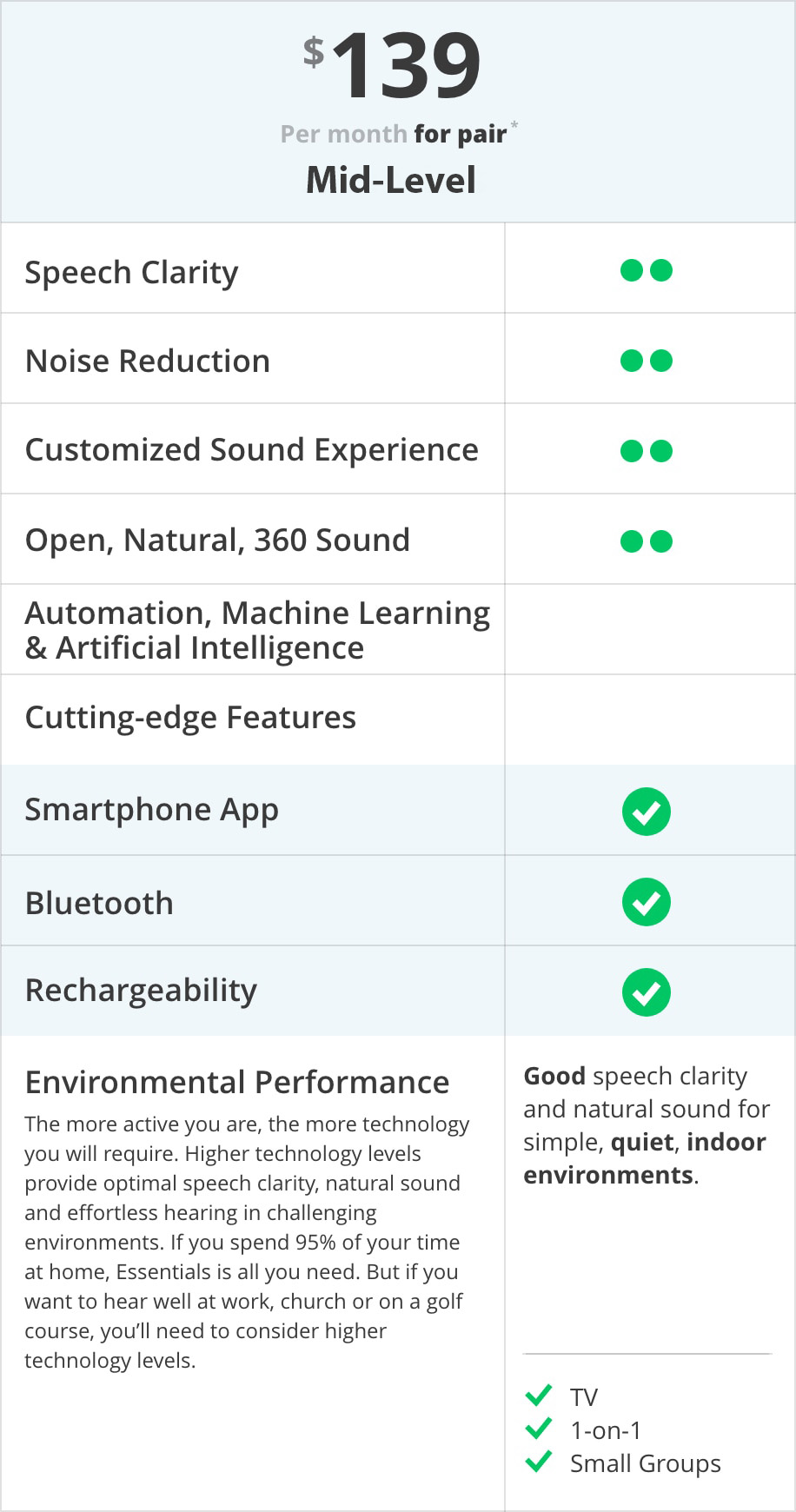 Get started.
Select your state below.
Our licensed professionals are conveniently located in all 50 states.
Click on your state
At hear.com, we provide our customers with a comprehensive, all-inclusive package. There are no hidden costs or additional charges, so you know exactly what to expect. In addition to the latest, medical-grade hearing aids, our prices include over $2000 of additional value:
Licensed hearing care services that make a difference
The best hearing aids are only as good as the professional that programs them. Services include the hearing test, programming/fitting of the hearing aids, and as many additional appointments needed to fine-tune your hearing aids. This will ensure you're happy with your hearing experience. The market value for these services can add up to $500-$1000 but are included in our prices.
Aftercare services to extend the life of the device and maximize effectiveness
We include 5 additional follow-up visits for fine-tuning or annual check-ups after the end of the trial period. Hearing ability can change over time, so this ensures the settings are always suitable for you. These appointments include professional cleaning, which improves performance and extends the lifetime of the devices. The cost of the 5 appointments alone is worth $250-$500.
Manufacturer's warranty against loss and damages (just in case)
Medical-grade hearing aids are extremely durable, but if you wear them all day, every day (like you should) accidents can happen, so you want to be covered. Most devices come with a 3-year warranty on loss and damages, but a few of the lower-cost devices only have 1 year. Similar 3-year warranties can cost over $1000 (ex: AppleCare+ is $299 for two years on a $1000 phone).
Now that you have all this information, our recommendation to everyone is to get as much technology as you can afford. From all our interactions with customers, advanced programs and added conveniences will greatly increase your chances of success. Speech will be clearer, the sound will be more natural, and your life will be easier – even in more challenging environments.
The best technology really does make a difference. If you haven't already signed up for our 45-day trial, click the button below to experience it for yourself.
Resources
Learn everything you need to know about hearing aids and hearing loss.