Signia (formerly Siemens) is one of the most important hearing aid manufacturers in the world. A German hearing aid company known for its quality and precision, Signia consistently wows the world with their top of the line technology and high-end hearing aid devices. At Signia, your hearing is their top priority. Their line-up of German hearing aids is designed to deliver the most natural listening experience, every time.
We at hear.com want the best for you, our customers, which is why we've selected Signia's hearing aids to help you reach your hearing goals. Learn more about Signia's fantastic line of hearing aids powered by their revolutionary new Xperience platform, right here:
Signia Xperience: The Latest in Hearing Aid Technology
Thanks to the company's dedication to innovation, they're constantly producing devices that revolutionize the world of hearing aids, making it possible for you to have the best listening experience in any environment. Built off of the foundations of Siemens' world-famous audiological devices, the Signa Xperience platform prides itself on its list of high-end features designed specifically for the wearer.

The guiding premise of the Xperience platform is to "replicate nature," removing all of those ugly artificial sounds in your ears created by your old hearing aids and replacing them with the natural listening experience you know and love. Here are some of the top features of the Signia Xperience Platform: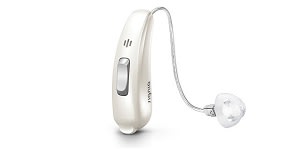 Own Voice Processing
Signia's proprietary "own voice processing" system helps eliminate the unwanted distortion of the wearer's own voice for a better listening experience. Using Ultra HDe2e technology, these German hearing aids focus on the wearer's voice to deliver a sound that imitates the natural noise – even in loud environments.
Immaculate clarity
Using that same Ultra HDe2e technology that helps Signia's hearing aids identify the wearer's voice, the Xperience platform is an industry leader at picking up on other people's voices to help improve speech processing in real-time. By allowing you to zero in on the speech of specific individuals, the Xperience hearing aids make it easier to keep up with conversations, wherever life might take you.
Stream directly from your devices
Thanks to the Xperience's Bluetooth streaming capabilities, with many of these German hearing aids, you can connect directly to your favorite devices for a seamless listening experience. Whether you want to connect to your phone to chat away with friends or to your TV to better hear your shows, Signia's Bluetooth-enabled Xperience platform is there for you.
Take control with the MyControl app
You shouldn't have to wait for your next appointment to adjust your hearing aids. With Signia's MyControl app, you don't have to. Thanks to this app, you can control the settings of your hearing aids at any time, to fine-tune your devices to best meet the needs of your environment. What's not to love?
German Hearing Aids Selected by hear.com
The innovators over at Signia know that hearing aids aren't a one-size-fits-all solution, which is why they have a whole line of offerings built on the Xperience platform to meet your needs. hear.com features several Signia hearing aids for all levels of hearing loss. hear.com recently partnered with Signia, using aspects of their technology platform to create their own line of unique hearing aids called Horizon. Horizon hearing aids by hear.com have taken hearing ability to a new level and are designed to meet the needs of people who won't take anything less than the best as an answer for their hearing challenges.

Both the Horizon Mini X (in-the-ear) and the Horizon Mini Go (behind-the-ear) by hear.com are so tiny that they're virtually invisible, allowing you to go about life without anything holding you back. These two hearing aids are both built upon the Xperience platform, so you can be confident and certain in your hearing abilities in any environment.
The Horizon Go AX is equipped with Bluetooth connectivity, allowing you to connect to Bluetooth-enabled devices to stream audio right into your hearing aids. The Horizon Mini X is one of the smallest hearing aids – with the best speech clarity – in the world. And, thanks to their ability to pick up sound in the noisiest of environments, you'll never miss any of life's important moments again.
The best part? Signia's Xperience technology is incredibly advanced but is surprisingly affordable. There's a German hearing aid out there for you and it's available at hear.com – we are ready to help you find the one that fits your lifestyle and budget.
Looking for Your Next Hearing Aids?
While we here at hear.com love German hearing aids for their long history of quality and precision, it's important that you choose a hearing aid based on the specific needs of your hearing loss and lifestyle. Whatever you might be looking for, hear.com is here to help you, with 2,000 locations across the United States. Sign up now to achieve your potential!
Get started.
Select your state below.
Our licensed professionals are conveniently located in all 50 states.
Click on your state
Resources
Learn everything you need to know about hearing aids and hearing loss.