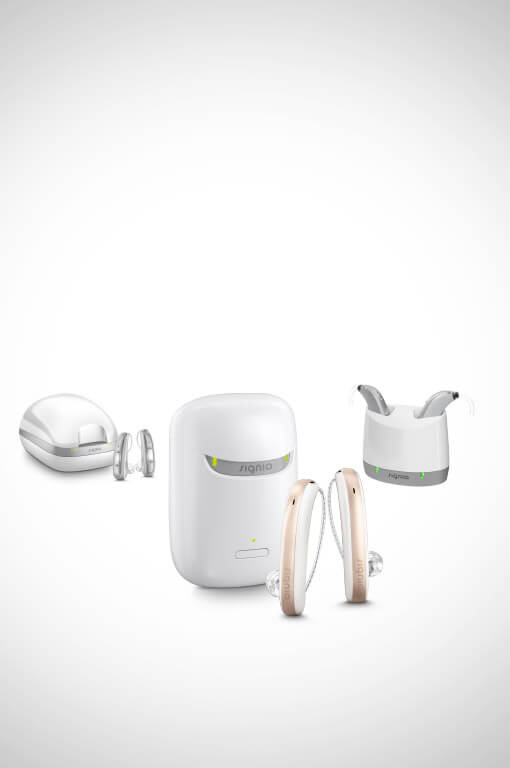 Smart hearing aids from hear.com - world's leading hearing care provider
Hearing aids with rechargeable batteries
Until not so long ago, powering hearing aids was not given undue importance during their development. Outdated technologies, such as zinc-air batteries, were mostly used, which were not permanently installed in the device and had to be replaced regularly. Meanwhile, however, numerous manufacturers are relying on more innovative technologies and developing hearing aids that are rechargeable. In this article you can find out everything you need to know about such products and what advantages they offer.
Table of Contents

How do hearing aids with rechargeable batteries work?
How are the batteries charged?
Advantages
How do hearing aids with rechargeable batteries work?
While conventional battery devices almost always use zinc-air technology, hearing aids with rechargeable batteries rely on a greater variety of functions. In the case of current products that are rechargeable, three proven technologies are mainly used:
Nickel-metal hydride batteries (NiMH):
This is the most cost-effective variant. Compared to competing technologies, NiMH batteries have a lower energy density and thus a lower charging capacity. They usually have to be recharged after less than 24 hours. One of their advantages is that they can be exchanged easily.
Silver oxide-zinc batteries (AgZn):
This variant is significantly more expensive than the nickel-metal hydride battery, but in return it offers almost twice the energy density. Furthermore, with this technology, a significantly lower self-discharge can be determined. Thanks to their higher charging capacity, AgZn devices usually only have to be charged after more than a day. Similar to the NiMH variant, silver-oxide-zinc batteries have a service life of around one year.
Lithium-ion batteries (Li-Ion):
Probably the most frequently used technology with a good price-performance ratio. While their costs are only slightly higher than those of nickel-metal hydride batteries, Li-Ion products offer the highest charging capacity of all hearing aids with a battery. A decisive disadvantage, however, is that although they are rechargeable, they cannot be replaced after a defect. To compensate for this, lithium-ion batteries score with a service life of at least four years. All hearing aids with rechargeable batteries that use the three technologies presented have one thing in common: They are rechargeable. How the charging process works differs from device to device. Whether or not you can use your hearing aid while it is charging depends on the technology installed.
In this way, you can use a battery as a replacement in the event that your hearing aid is not yet fully charged. The batteries of lithium-ion devices, on the other hand, cannot be removed. Therefore, the corresponding products have to be charged on the charging station and cannot be used during this time. If you have a hearing aid that uses silver-oxide-zinc technology, you can use a spare battery thanks to the exchangeable energy storage device to avoid possible downtime.
Sign-up for your in-store trial
»
How are the batteries charged?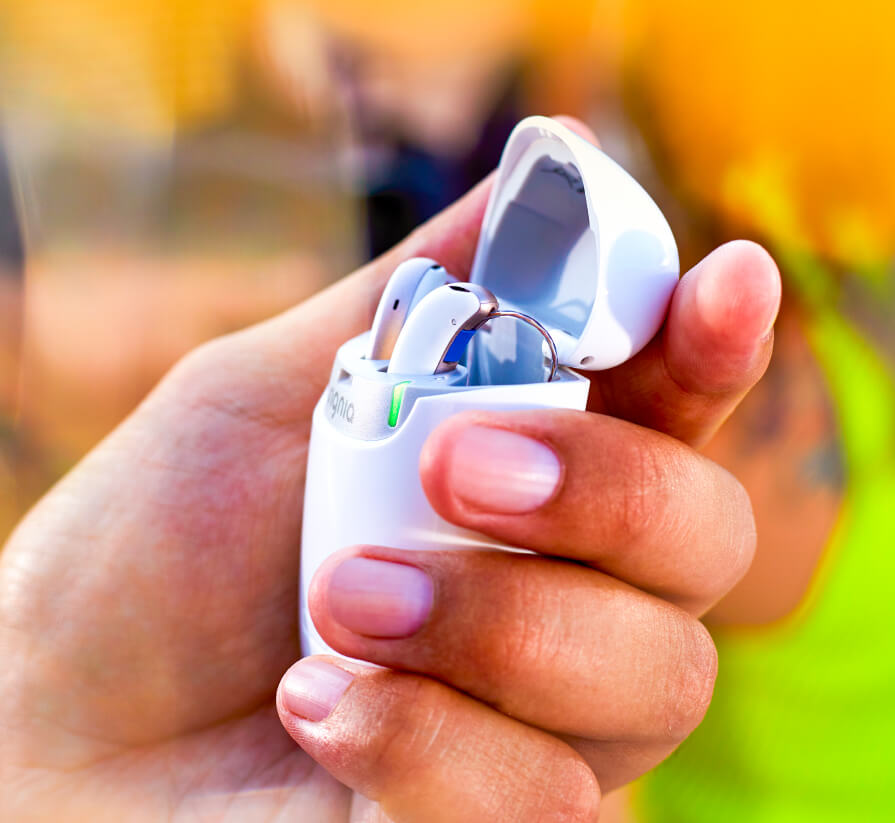 Since hearing aids with rechargeable batteries do not offer enough space for a corresponding charging socket due to their small size, they cannot be charged using a charging cable. For this reason, accessories for such hearing aids always include a suitable charging station.
This is usually hardly larger than a matchbox and can therefore be transported without any problems. If you do not have access to a power socket when you are out and about, you can use a USB cable to connect many models to a laptop, for example. So your hearing aid remains rechargeable, no matter where you are.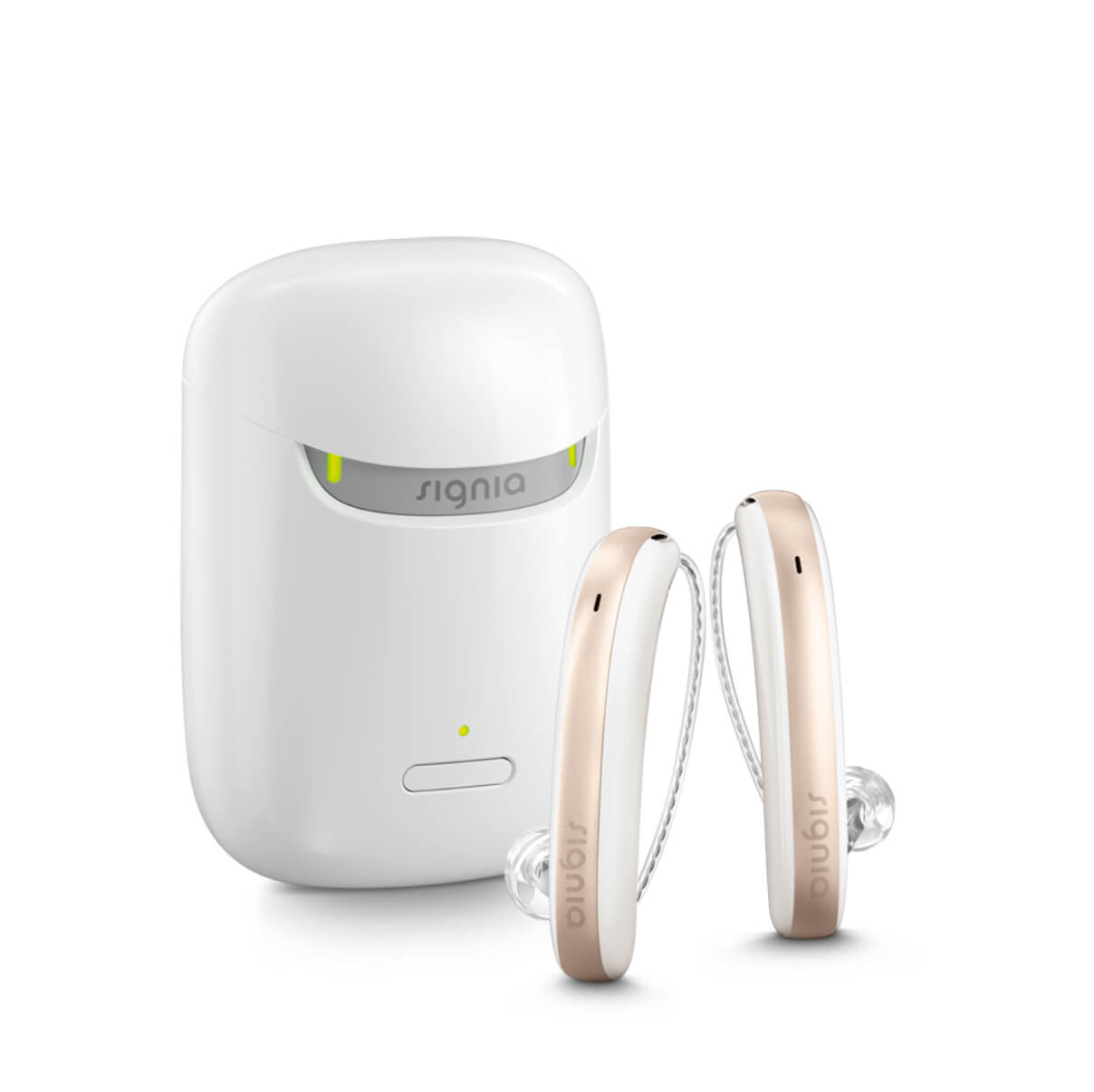 The most obvious advantage that rechargeable hearing aids have over battery-operated devices is that they are rechargeable. This means that you do not have to constantly replenish batteries and save money. Furthermore, battery models are much more environmentally friendly. On average, a rechargeable battery can replace up to 100 batteries over its entire service life. In addition, the amount of energy that has to be used in the production of a single battery is around 500 times higher than the amount that it provides itself.
Check if you qualify for an in-store trial