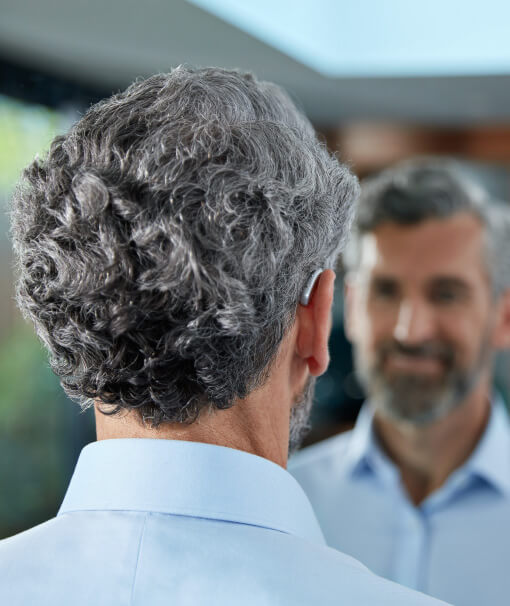 Smart hearing aids from hear.com - world's leading hearing care provider

The Signia Pure series is suitable for customers with mild to severe hearing loss, as you can choose between three different receivers in terms of equipment. The Signia Pure is an ultra-small, rechargeable behind-the-ear hearing aid with a receiver that sits in the ear canal. For charging, you simply need to plug the device into a charging station – called the eCharger – overnight, which also has an electrical drying function.
With Signia Pure, listening in HD is possible without any problems. In addition, the new models, the Signia Pure binax series, can also be controlled via the touchControl app on the smartphone, which practically replaces a separate remote control. This means that volume, hearing program and listening environment can be adjusted with just a few finger gestures

Noise suppression
Feedback suppression
Speech enhancement
Directional hearing
Connectivity
Ambient noise filter
Annoying whistling from the hearing aid is suppressed
Targeted highlighting of a voice
Automatic Orientation towards the interlocutor
Wireless connection to external audio sources
Design: BTE (Behind the ear)
Suitable for: mild to severe hearing loss
Battery type: 312
With the Signia Pure 701, the SpeechFocus automatically recognizes when someone is speaking, regardless of the direction from which the language is coming, and thus ensures better speech understanding. Thanks to SoundLearning ™ 2.0, every change made by the user is registered and saved depending on the noise situation. This intelligent learning function creates an individual profile and the correct settings are automatically selected in known situations.
Accessorizing your Signia
The Signia hearing aids can be wirelessly connected to modern audio and entertainment devices as well as smartphones using the Tek and miniTek wireless accessory systems. In this way, their signal can be received directly via the hearing aid without any interference. Signia Pure hearing aids are currently among the smallest receiver-in-canal hearing aids on the market, yet they are extremely powerful. Due to their small size and the extensive choice of colors, the devices are almost invisible. The equipment with the FeedbackStopper technology ensures that you avoid unpleasant whistling noises.
Check if you qualify for an in-store trial