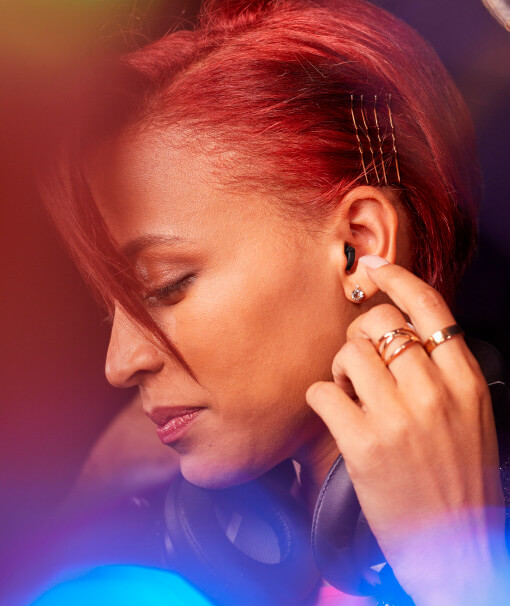 Smart hearing aids from hear.com - world's leading hearing care provider

The Signia Silk is a small invisible hearing aid, one of the tiniest in the world: The shape of the housing of the small device is designed in such a way that it can be adapted to almost any ear thanks to soft silicone attachments – called click sleeves. In contrast to other hearing aids, Signia Silk does not require a special impression of the auricle. And since there is no need to take an individual impression, there are no waiting times until the device is ready for use. In most cases, Signia Silk can be tried out right away.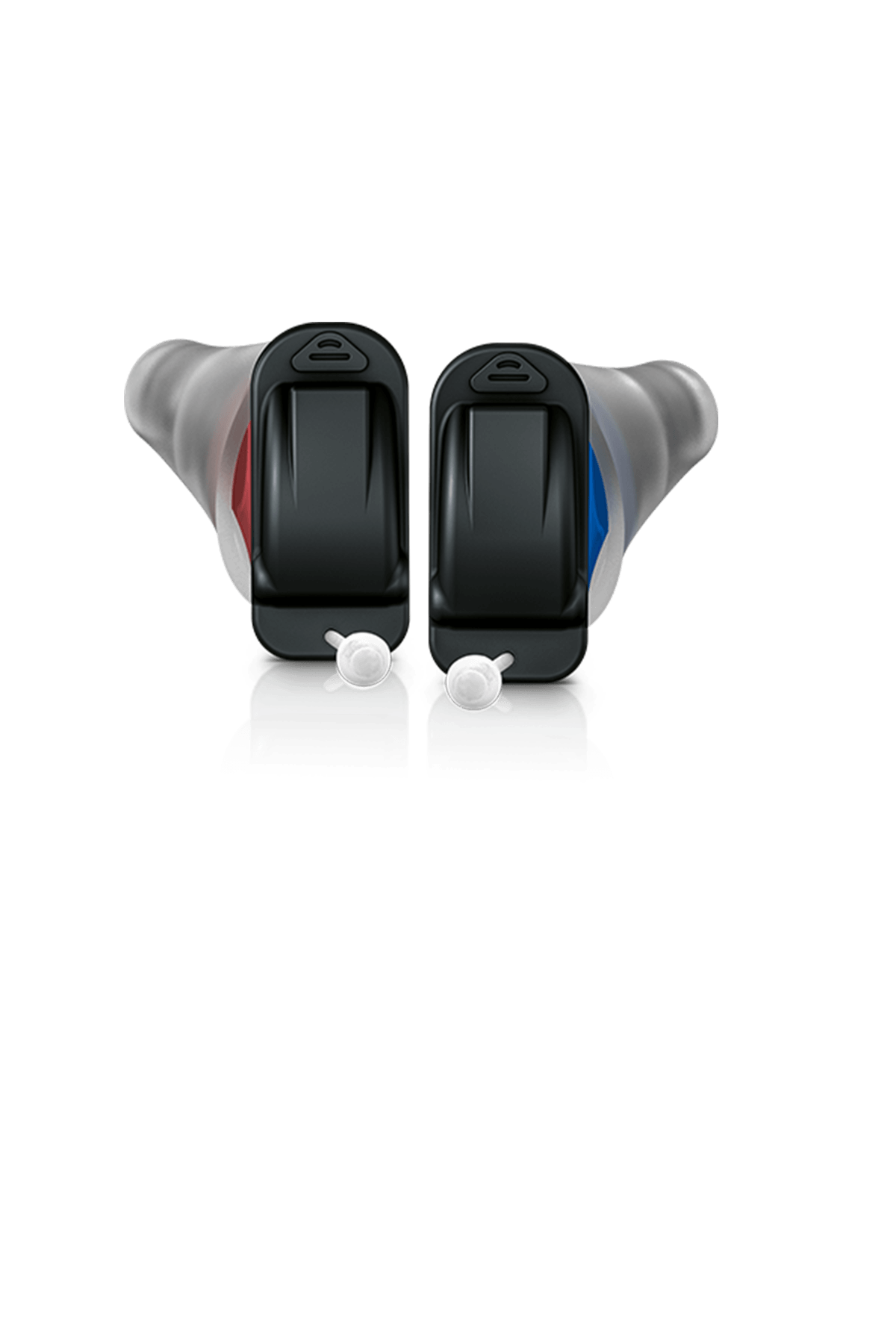 Click sleeves for small invisible hearing aids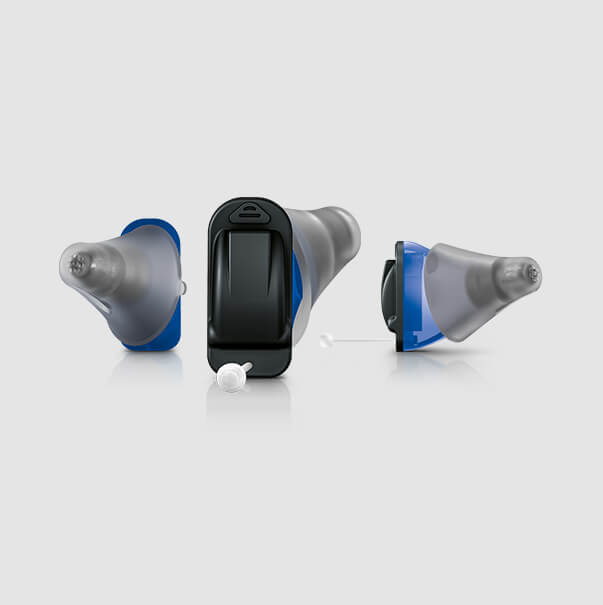 The Silk hearing systems are so small that the click sleeves can be easily attached. The soft silicone sleeves were specially developed for Signia Silk. They are available in six different variations, ensuring that these small invisible hearing aids (Signia Silk) are suitable for most hearing impairments and can fit into almost every ear canal. The silicone cover is attached with just one click and envelops the actual hearing aid. Delivery with or without a ventilation opening is possible. The soft silicone cover enables the Signia Silk hearing system to sit very deep and therefore inconspicuously in the ear canal. In addition, the material is pleasant and ensures that the device sits securely and comfortably and that the wearer can hardly feel it.
A tiny, high-tech miracle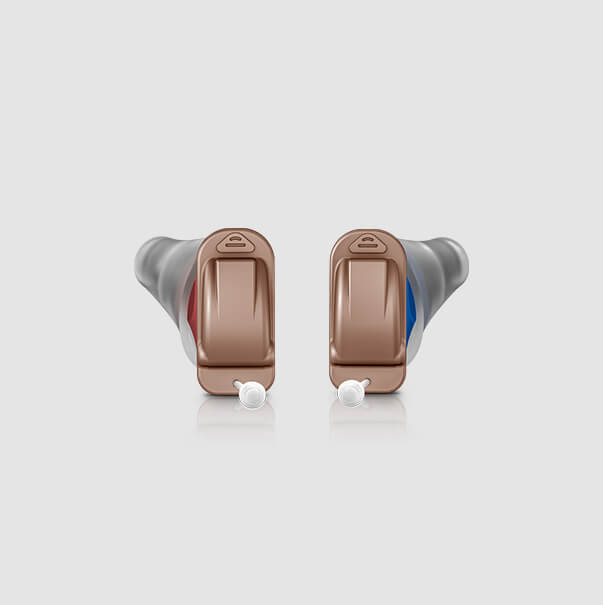 Silk hearing systems are not only extremely discreet, they also score with many useful properties. The basis of Signia Silk is the so-called primax technology, which offers many advantages for people with impaired hearing. Find out more about the practical application possibilities in our brief overview:
HD Music Program: With the HD Music Program, you can enjoy real music again. Whether it's a classical concert to a visit to a rock festival to listening to music in your own four walls, these small invisible hearing aids make it possible. Depending on your taste in music, the HD music program offers a wide variety of settings that enable rich and full sound. Another program also provides ideal support for singers or musicians who are hard of hearing during a live performance.
The SpeechMaster: The SpeechMaster continuously evaluates all acoustic signals arriving at the left and right ears. When a human voice is recognized, the SpeechMaster determines where it is coming from, how far away it is and whether there is any background noise that is being superimposed on it. In this way, the signal processing in the hearing aid is orchestrated and the voice of the conversation partner is clearly highlighted. The result?
EchoShield and TwinPhone program: This program ensures that an ideal listening situation is achieved even with acoustic challenges. In large rooms, entrance halls or corridors, for example, annoying reverb effects often occur. With the EchoShield function, a hearing aid with primax technology can easily attenuate unpleasant hall effects. At the same time, the language is specifically emphasized in such a situation – and the person you are speaking to is easy and effortless to understand.
Primax technology: Making phone calls often poses certain challenges for people with hearing loss. Our Primax technology ensures that the phone can simply be held to the ear. The acoustic signals from the handset are then transmitted to both hearing aids at the same time via the TwinPhone programs
Sign-up for your in-store trial
»
Signia Silk: change how you listen
Anyone who opts for a Signia Silk hearing system also benefits from excellent transmission, in order to be able to optimally understand one or more conversation partners, especially in a situation with a lot of background noise. Clinical studies show that this leads to reduced listening effort. This discreet hearing aid fits comfortably to almost any ear. The innovative click sleeves made of pleasantly soft silicone ensure great wearing comfort. And first-time users in particular can test the hearing aids immediately and benefit from a completely new hearing quality in a wide variety of everyday situations.
At hear.com, the focus is on individual advice that is fully tailored to your personal situation. Simply find out how you can support your own sense of hearing during a free telephone consultation with one of our experts. As depending on the extent to which your hearing ability is restricted, there are various solutions that one of our partner clinics in your area can discuss with you.
Check if you qualify for an in-store trial